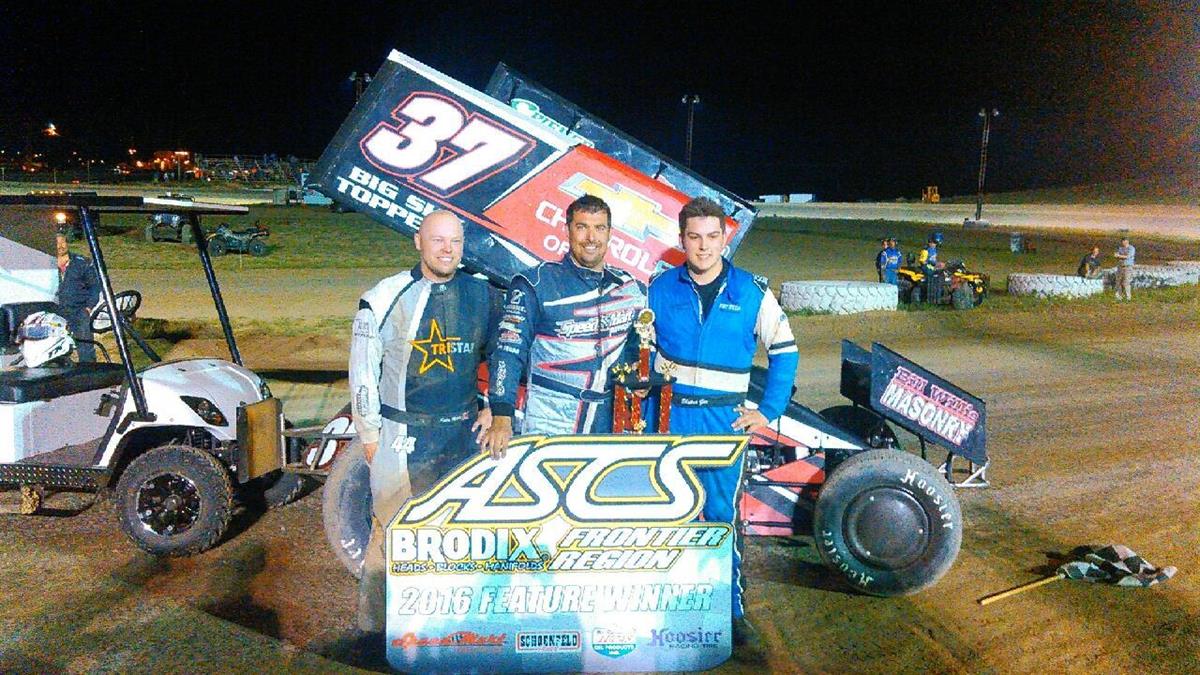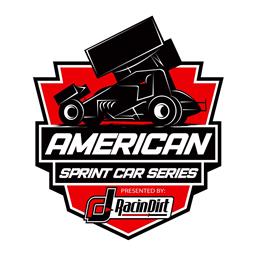 ---
Trever Kirkland Wins At Gillette Thunder Speedway With The Brodix ASCS Frontier Region
(Image Credit: Kass Cornella)
GILLETTE, Wy. (June 4, 2016) The night was right for Trever Kirkland as the Helena, Mont. shoe wheeled his No. 37 to Victory Lane for the first time in 2016, and second time overall, with the Brodix ASCS Frontier Region; taking the win at the Gillette Thunder Speedway in Gillette, Wy.
Giving chase from the third starting spot, it would be the No. 2jr of Kelly Miller who lead the first handful of laps before Friday night's winner, Skylar Gee, took over the race lead. Working just past the race's halfway point, Kirkland secured the top spot and never looked back.
Skylar Gee ended up finishing the night second with Kelly Miller taking the bronze step on the podium. From eighth, David Hoiness came up to finish fourth with D.J. Brink rounding out the top-five. Colorado's Bryan Gossel was sixth with Jeremy McCune seventh. Ryan Parks crossed eighth with 15th starting Zach Merritt coming up to finish ninth. The top-ten concluded with Bryan Brown.
Coming out of the season opening double header, there is a tie at the top of the leaderboard as Skylar Gee and Trever Kirkland each have 292 points. Kelly Miller is third with 265 markers, followed by D.J. Brink with 244 and Bryan Gossel with 240.
Coming up next for the Brodix ASCS Frontier Region will be a two night showdown with the Lucas Oil ASCS National Tour presented by the MAVTV Motorsports Network at the Gallatin Speedway in Belgrade, Mont. on Friday, July 8 and Saturday, July 9. For continued updates on the Brodix ASCS Frontier Region, log onto http://www.ascsracing.com.
Race Results:
ASCS Frontier Region
Gillette Thunder Speedway – Gillette, Wy.
Saturday, June 4, 2016
Car Count: 21
Heat 1 (8 Laps): 1. 13-Ryan Parks; 2. 2JR-Kelly Miller; 3. 10-Anthony Farnsworth; 4. 0J-Jeremy McCune; 5. 4-Adam Speckman; 6. 77-Reed Peterson; 7. 28D-Damon McCune
Heat 2 (8 Laps): 1. 37-Trever Kirkland; 2. 75-D.J. Brink; 3. 27DD-David Hoiness; 4. 38B-Bryan Brown; 5. 74-Zach Merritt; 6. 15-James Sires; 7. 14-Ben Holmberg
Heat 3 (8 Laps): 1. 99-Skylar Gee; 2. 24M-Rich Martin; 3. 6G-Bryan Gossel; 4. 77-Reed Peterson; 5. 7-Mike Sires; 6. 24-Leroy Brush; 7. 2-Shad Peterson
A Feature (25 Laps): 1. 37-Trever Kirkland[3]; 2. 99-Skylar Gee[7]; 3. 2JR-Kelly Miller[1]; 4. 27DD-David Hoiness[8]; 5. 75-D.J. Brink[5]; 6. 6G-Bryan Gossel[4]; 7. 0J-Jeremy McCune[9]; 8. 13-Ryan Parks[6]; 9. 74-Zach Merritt[15]; 10. 38B-Bryan Brown[13]; 11. 2-Shad Peterson[20]; 12. 15-James Sires[16]; 13. 7-Mike Sires[14]; 14. 14-Ben Holmberg[19]; 15. 4-Adam Speckman[12]; 16. 24-Leroy Brush[17]; 17. 24M-Rich Martin[10]; 18. 10-Anthony Farnsworth[2]; 19. 77M-Nate Maxwell[11]; 20. 28D-Damon McCune[21]; 21. 77-Reed Peterson[18]
---
Submitted By: Bryan Hulbert
Back to News