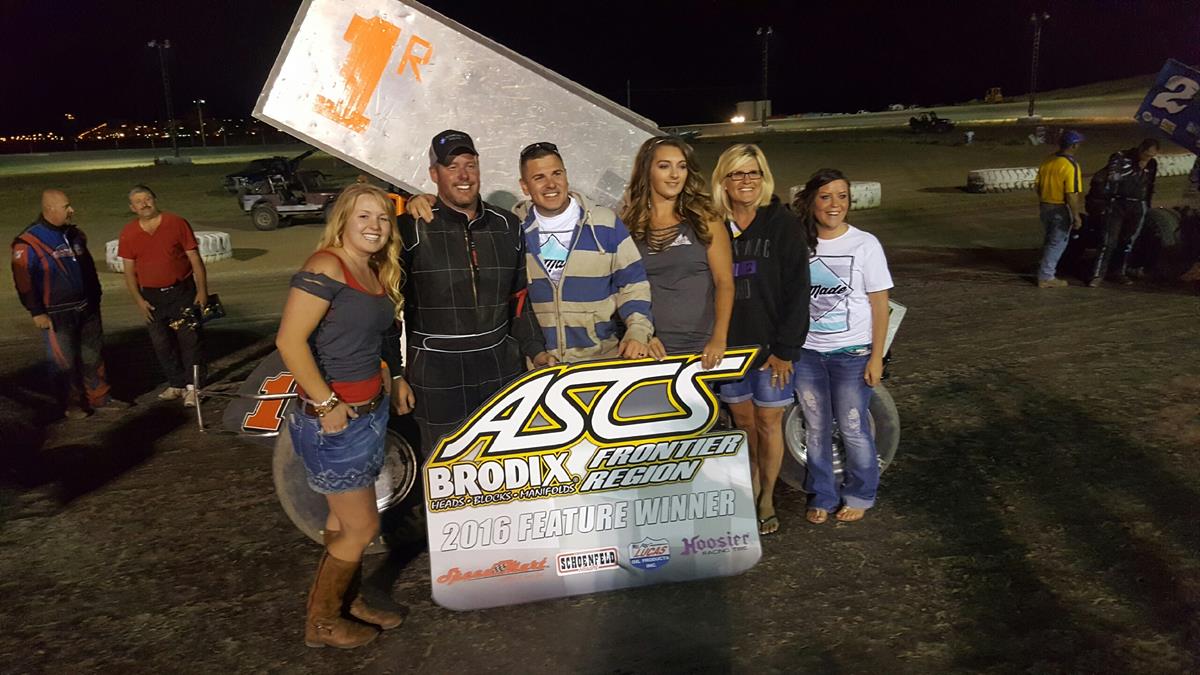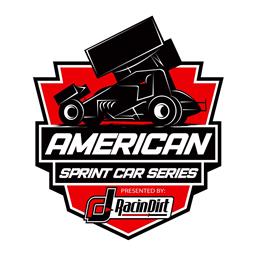 ---
Ned Powers Returns To Victory Lane With ASCS Frontier At Gillette Thunder Speedway
GILLETTE, Wy. (August 13, 2016) The Bullet from Belle Fourche was just that on Saturday night. Besting a lineup of 19 other drivers, Ned Powers was the class of the field with the Brodix ASCS Frontier Region; winning at the Gillette Thunder Speedway for his first ASCS Regional score since 2009.
Powers' first win with the Frontier Region, the triumph is his fourth career ASCS Regional win, as the Saturday night trip atop the podium comes almost seven years to the day when the South Dakota driver stood in Victory Lane with the ASCS Rocky Mountain Region on August 29, 2009 at the very same Wyoming oval.
Leading from the pole on the very slick Gillette Thunder Speedway, Powers was chased to the finish by Corey Brink with Washington's Logan Forler coming from seventh to take the final podium step. Current Brodix ASCS Frontier Region point's leader, Skylar Gee, came from eighth to fourth with D.J. Brink following in fifth.
Eric Flatmoe was sixth with Shad Peterson seventh. From 13th, Damon McCune crossed eighth with Rich Martin and Jeremy McCune from 19th to complete the top-ten.
The Brodix ASCS Frontier Region is Montana bound with the next outing slated for Friday August 19 and Saturday, August 20 at the Electric City Speedway in Great Falls, Mont. The two night run is the first of five straight at the Great Falls oval, with three nights on tap over the Labor Day Weekend.
For continued updates on the Brodix ASCS Frontier Region, log onto http://www.ascsracing.com.
Race Results:
ASCS Frontier Region
Gillette Thunder Speedway – Gillette, Wy.
Saturday, August 13, 2016
Car Count: 20
Heat 1 (8 Laps): 1. 75-D.J. Brink; 2. 99-Skylar Gee; 3. 24M-Rich Martin; 4. 77M-Nate Maxwell; 5. 77-Damon McCune; 6. 56X-Mark Chisholm; 7. 1-Cody Sickles
Heat 2 (8 Laps): 1. 2L-Logan Forler; 2. 83-Corey Brink; 3. 4-Adam Speckman; 4. 14-Ben Holmberg; 5. 56-John McClelland; 6. (DNF) 29-Darrell Sickles; 7. (DNF) 0J-Jeremy McCune
Heat 3 (8 Laps): 1. 1R-Ned Powers; 2. 2-Shad Petersen; 3. 29F-Eric Flatmoe; 4. 7-Mike Sires; 5. 33-Robert DeHaan; 6. 24R-Lany Reber
A Feature (25 Laps): 1. 1R-Ned Powers[1]; 2. 83-Corey Brink[2]; 3. 2L-Logan Forler[7]; 4. 99-Skylar Gee[8]; 5. 75-D.J. Brink[3]; 6. 29F-Eric Flatmoe[6]; 7. 2-Shad Petersen[4]; 8. 77-Damon McCune[13]; 9. 24M-Rich Martin[9]; 10. 0J-Jeremy McCune[19]; 11. 56X-Mark Chisholm[18]; 12. 4-Adam Speckman[5]; 13. 77M-Nate Maxwell[10]; 14. 14-Ben Holmberg[11]; 15. 56-John McClelland[15]; 16. 1-Cody Sickles[20]; 17. 33-Robert DeHaan[14]; 18. 24R-Lany Reber[17]; 19. 7-Mike Sires[12]; 20. (DNF) 29-Darrell Sickles[16]
---
Submitted By: Bryan Hulbert
Back to News