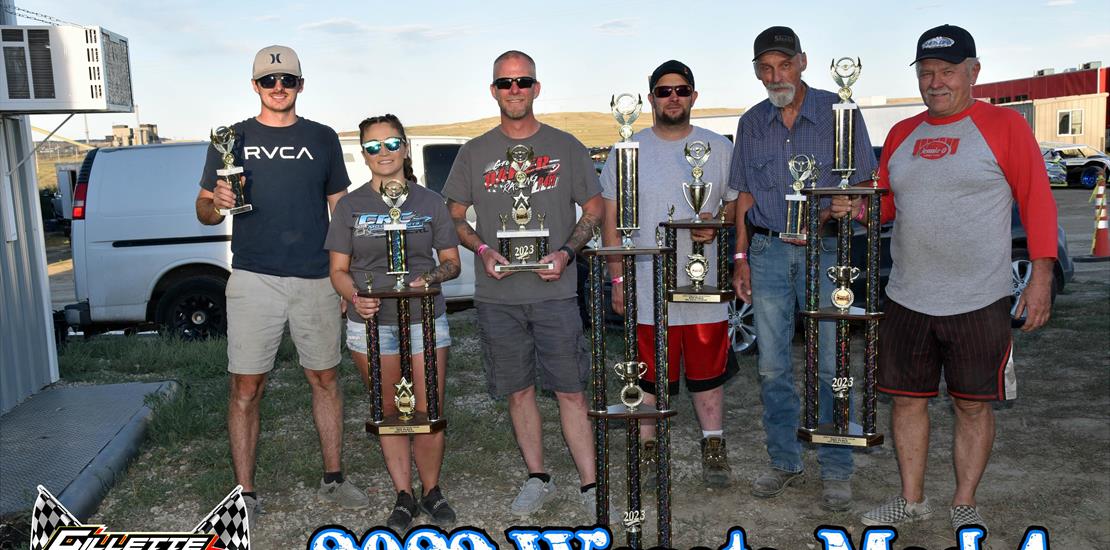 9/14/2023 -
Congrats to your 2023 Gillette Thunder Speedway Overall Points winners in the Wissota Mod 4 Class! Champion: Tyler Sikkenga #745 - Gillette, WY 2nd: D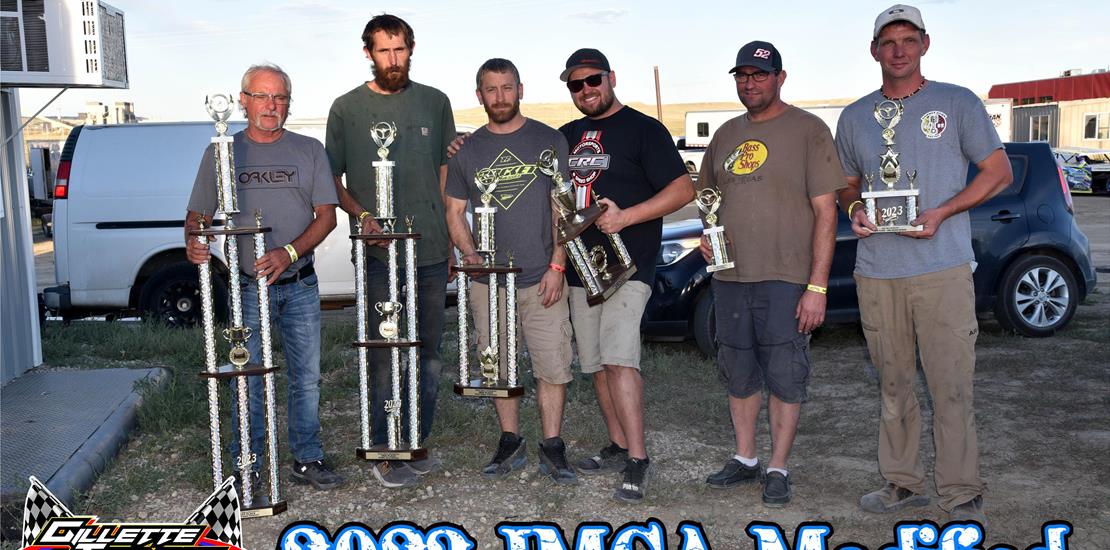 9/14/2023 -
Congrats to your 2023 Gillette Thunder Speedway Overall Points winners in the IMCA Modified Class! Champion: Mike Dimond #XM - Rapid City, SD 2nd: Kyl
9/14/2023 -
Congrats to your 2023 Gillette Thunder Speedway Overall Points winners in the IMCA Hobby Stock Class! Champion: John Garrigan Jr. #95J - Rapid City, S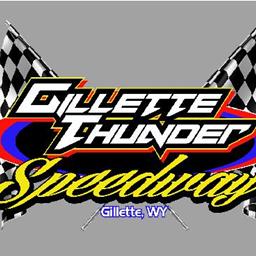 9/3/2023 - Gillette Thunder Speedway
Gillette, WY
23rd Annual East West Clash Championship Night + High Plains Late Model Tour
Please join us for the 23nd Annual East West Clash! 3 Nights of Action Packed Racing Friday, Saturday, and Sunday! Come see traveling / local drivers compete for the Biggest Payout in the history of this event!!
Live Stream @ www.bhsgts.tv !!
Don't forget to pick up your 23nd Annual East West Clash t-shirts!!
Gates open at 6pm, races start at 7pm!
General Admission: $15
Seniors / Veterans: $12
Kids 12 years old and younger over 4' tall: $6
Kids under 4' are Free!
Mini Bombers

5 entries

WISSOTA Midwest Mods

26 entries

WISSOTA Mod Four

15 entries

IMCA Hobby Stock

14 entries

IMCA Modified

24 entries

Dirt Super Late Models

25 entries
Full Event Information on MyRacePass
Mini Bombers
Finish
Start
#
Competitor
Hometown
+/-
1
5
09RJ
logan Wooley Gillette, WY
Gillette, WY
4
2
2
95
Jared Lynch Gillette, WY
Gillette, WY
-
3
4
21T
Paxton Tyrell Gillette, WY
Gillette, WY
1
4
3
M3
Marlayna Mosley Gillette, WY
Gillette, WY
-1
5
1
12
Talon Einfalt Gillette, WY
Gillette, WY
-4
Finish
Start
#
Competitor
Hometown
+/-
1
2
12
Talon Einfalt Gillette, WY
Gillette, WY
1
2
1
95
Jared Lynch Gillette, WY
Gillette, WY
-1
3
4
M3
Marlayna Mosley Gillette, WY
Gillette, WY
1
4
3
21T
Paxton Tyrell Gillette, WY
Gillette, WY
-1
5
5
09RJ
logan Wooley Gillette, WY
Gillette, WY
-
All transfer
WISSOTA Midwest Mods
Finish
Start
#
Competitor
Hometown
+/-
1
3
18
Tony Leiker Gillette, WY
Gillette, WY
2
2
1
31
Kyle Harkin Hermosa, SD
Hermosa, SD
-1
3
4
17
Troy Leiker Gillette, WY
Gillette, WY
1
4
7
4
Darin Hauff Rapid City, SD
Rapid City, SD
3
5
2
55B
Austin Baumberger Gillette, WY
Gillette, WY
-3
6
8
T3
Travis Soper Gillette, WY
Gillette, WY
2
7
24
33
Austin Long Gillette, WY
Gillette, WY
17
8
5
72
Nick Leiker Rozet, WY
Rozet, WY
-3
9
9
14
Kenny Bell Gillette, WY
Gillette, WY
-
10
25
12S
Chad Switzenberg Sheridan, WY
Sheridan, WY
15
11
10
29
Ty Miller Gillette, WY
Gillette, WY
-1
12
11
391
Matthew Drake Gillette, WY
Gillette, WY
-1
13
6
34H
Rob Hoffman Gillette, WY
Gillette, WY
-7
14
15
58
Braddy Taylor Gillette, WY
Gillette, WY
1
15
13
30
Jeremy Cole Gillette, WY
Gillette, WY
-2
16
21
12
Alexis Manning Gillette, WY
Gillette, WY
5
17
18
509
Brennan Davis Piedmont, SD
Piedmont, SD
1
18
23
28
Dawson Stoner Gillette, WY
Gillette, WY
5
19
17
25K
Kolby Weight Gillette, WY
Gillette, WY
-2
20 DNF
26
29A
Alan Farley Rapid City, SD
Rapid City, SD
6
21 DNF
16
94R
Ryan Nash Billings, MT
Billings, MT
-5
22 DNF
14
56
Norman Jackson Casper, WY
Casper, WY
-8
23 DNF
20
101
Chad Kordus Ranchester, WY
Ranchester, WY
-3
24 DNF
12
50
Paul Parks Owanka, SD
Owanka, SD
-12
25 DNF
19
C4
Toby Smith Gillette, WY
Gillette, WY
-6
26 DNF
22
454
Daniel Stephenson Billings, MT
Billings, MT
-4
Finish
Start
#
Competitor
Hometown
+/-
1
2
31
Kyle Harkin Hermosa, SD
Hermosa, SD
1
2
6
17
Troy Leiker Gillette, WY
Gillette, WY
4
3
5
4
Darin Hauff Rapid City, SD
Rapid City, SD
2
4
9
29
Ty Miller Gillette, WY
Gillette, WY
5
5
7
30
Jeremy Cole Gillette, WY
Gillette, WY
2
6
4
94R
Ryan Nash Billings, MT
Billings, MT
-2
7
8
C4
Toby Smith Gillette, WY
Gillette, WY
1
8
1
454
Daniel Stephenson Billings, MT
Billings, MT
-7
9 DNF
3
12S
Chad Switzenberg Sheridan, WY
Sheridan, WY
-6
All transfer
Finish
Start
#
Competitor
Hometown
+/-
1
2
55B
Austin Baumberger Gillette, WY
Gillette, WY
1
2
5
72
Nick Leiker Rozet, WY
Rozet, WY
3
3
3
T3
Travis Soper Gillette, WY
Gillette, WY
-
4
6
391
Matthew Drake Gillette, WY
Gillette, WY
2
5
4
56
Norman Jackson Casper, WY
Casper, WY
-1
6
9
25K
Kolby Weight Gillette, WY
Gillette, WY
3
7
1
101
Chad Kordus Ranchester, WY
Ranchester, WY
-6
8 DNF
8
28
Dawson Stoner Gillette, WY
Gillette, WY
-
DNS
7
29A
Alan Farley Rapid City, SD
Rapid City, SD
-
All transfer
Finish
Start
#
Competitor
Hometown
+/-
1
4
18
Tony Leiker Gillette, WY
Gillette, WY
3
2
1
34H
Rob Hoffman Gillette, WY
Gillette, WY
-1
3
2
14
Kenny Bell Gillette, WY
Gillette, WY
-1
4
6
50
Paul Parks Owanka, SD
Owanka, SD
2
5
8
58
Braddy Taylor Gillette, WY
Gillette, WY
3
6
5
509
Brennan Davis Piedmont, SD
Piedmont, SD
-1
7
7
12
Alexis Manning Gillette, WY
Gillette, WY
-
8 DNF
3
33
Austin Long Gillette, WY
Gillette, WY
-5
All transfer
WISSOTA Mod Four
Finish
Start
#
Competitor
Hometown
+/-
1
2
5H
Dustin Holtquist St. Cloud, MN
St. Cloud, MN
1
2
3
16
Tyler Sikkenga Gillette, WY
Gillette, WY
1
3
1
5
Robert Holtquist Milbank, SD
Milbank, SD
-2
4
13
007
Garrett Bietz Gillette, WY
Gillette, WY
9
5
4
123
Jason Sikkenga Gillette, WY
Gillette, WY
-1
6
6
P413
Greg Baker Gillette, WY
Gillette, WY
-
7
8
86
David Jozwiak Gillette, WY
Gillette, WY
1
8
9
55
Shelli Lind Gillette, WY
Gillette, WY
1
9
7
8W
John Smith Gillette, WY
Gillette, WY
-2
10
11
69
Mike Lind Gillette, WY
Gillette, WY
1
11
5
307
Dax Reher Sheridan, WY
Sheridan, WY
-6
12
15
NOS
Nate Sikkenga Gillette, WY
Gillette, WY
3
13
10
52
Brody Grenz Gillette, WY
Gillette, WY
-3
14
14
25
Ryanne Keesling Sheridan, WY
Sheridan, WY
-
15 DNF
12
46K
Katie Rush Gillette, WY
Gillette, WY
-3
Finish
Start
#
Competitor
Hometown
+/-
1
1
5
Robert Holtquist Milbank, SD
Milbank, SD
-
2
5
16
Tyler Sikkenga Gillette, WY
Gillette, WY
3
3
3
307
Dax Reher Sheridan, WY
Sheridan, WY
-
4
7
8W
John Smith Gillette, WY
Gillette, WY
3
5
8
55
Shelli Lind Gillette, WY
Gillette, WY
3
6
2
69
Mike Lind Gillette, WY
Gillette, WY
-4
7
4
007
Garrett Bietz Gillette, WY
Gillette, WY
-3
DNS
6
NOS
Nate Sikkenga Gillette, WY
Gillette, WY
-
All transfer
Finish
Start
#
Competitor
Hometown
+/-
1
2
5H
Dustin Holtquist St. Cloud, MN
St. Cloud, MN
1
2
5
123
Jason Sikkenga Gillette, WY
Gillette, WY
3
3
1
P413
Greg Baker Gillette, WY
Gillette, WY
-2
4
4
86
David Jozwiak Gillette, WY
Gillette, WY
-
5
6
52
Brody Grenz Gillette, WY
Gillette, WY
1
6
7
46K
Katie Rush Gillette, WY
Gillette, WY
1
7
3
25
Ryanne Keesling Sheridan, WY
Sheridan, WY
-4
All transfer
IMCA Hobby Stock
Finish
Start
#
Competitor
Hometown
+/-
1
1
9
Jack Hubbard Jr Rapid City, SD
Rapid City, SD
-
2
3
45
Travis Landauer Albion, NE
Albion, NE
1
3
5
100K
Brett Konst Sturgis, SD
Sturgis, SD
2
4
8
7D
Russ Dalgarn Glenrock, WY
Glenrock, WY
4
5
4
383
Larry Wagner Casper, WY
Casper, WY
-1
6
12
5K
John Lynch Jr Gillette, WY
Gillette, WY
6
7
10
3
Dillon Johnson Sundance, WY
Sundance, WY
3
8
11
6
Jacob Rowley Riverdale, UT
Riverdale, UT
3
9
7
8
Bill Rowley Payson, UT
Payson, UT
-2
10
14
09DR
Russell Brown Gillette, WY
Gillette, WY
4
11 DNF
2
00
Benjie Bayne Casper, WY
Casper, WY
-9
12 DNF
13
5
Johnny Rowley Spanish Fork, UT
Spanish Fork, UT
1
13 DNF
9
11H
Taylor Heaton Baker, MT
Baker, MT
-4
DQ
6
95J
John Garrigan Jr Rapid City, SD
Rapid City, SD
-
Finish
Start
#
Competitor
Hometown
+/-
1
1
9
Jack Hubbard Jr Rapid City, SD
Rapid City, SD
-
2
2
45
Travis Landauer Albion, NE
Albion, NE
-
3
6
100K
Brett Konst Sturgis, SD
Sturgis, SD
3
4
3
8
Bill Rowley Payson, UT
Payson, UT
-1
5
5
11H
Taylor Heaton Baker, MT
Baker, MT
-
6
7
6
Jacob Rowley Riverdale, UT
Riverdale, UT
1
7 DNF
4
5
Johnny Rowley Spanish Fork, UT
Spanish Fork, UT
-3
All transfer
Finish
Start
#
Competitor
Hometown
+/-
1
3
00
Benjie Bayne Casper, WY
Casper, WY
2
2
1
383
Larry Wagner Casper, WY
Casper, WY
-1
3
5
95J
John Garrigan Jr Rapid City, SD
Rapid City, SD
2
4
6
7D
Russ Dalgarn Glenrock, WY
Glenrock, WY
2
5
2
3
Dillon Johnson Sundance, WY
Sundance, WY
-3
6
7
5K
John Lynch Jr Gillette, WY
Gillette, WY
1
7
4
09DR
Russell Brown Gillette, WY
Gillette, WY
-3
All transfer
IMCA Modified
Finish
Start
#
Competitor
Hometown
+/-
1
2
E5K
Eddie Kirchoff Gillette, WY
Gillette, WY
1
2
3
8C
Chad Andersen Ft. Calhoun, NE
Ft. Calhoun, NE
1
3
4
7
Marlyn Seidler Underwood, ND
Underwood, ND
1
4
1
29
Alan Farley Rapid City, SD
Rapid City, SD
-3
5
8
44
Eric Mass Rapid City, SD
Rapid City, SD
3
6
5
5
Connor Friske Rapid City, SD
Rapid City, SD
-1
7
6
50
Wade Manning Gillette, WY
Gillette, WY
-1
8
13
25
Hank Berry Sidney, MT
Sidney, MT
5
9
7
15C
Jeff Cooper Riverton, WY
Riverton, WY
-2
10
10
43
Rick Chorniak Casper, WY
Casper, WY
-
11
12
27EH
Lawrence O'Connor Port Hardy, BC
Port Hardy, BC
1
12
18
13
Brent Nielsen Rapid City, SD
Rapid City, SD
6
13
11
25R
Bryan Renken Gillette, WY
Gillette, WY
-2
14
15
00
Ryan Renken Gillette, WY
Gillette, WY
1
15
16
65
Nick Hankins Bennett, CO
Bennett, CO
1
16
14
08M
T. J. Martell Gillette, WY
Gillette, WY
-2
17
20
550K
Kyle Anton Gillette, WY
Gillette, WY
3
18
23
15
Jeffery Cooper II Riverton, WY
Riverton, WY
5
19
17
46
Adam Boggs Custer, SD
Custer, SD
-2
20 DNF
22
46X
Darren Fischer Rapid City, SD
Rapid City, SD
2
21 DNF
9
2J
Jerry Martin Moorcroft, WY
Moorcroft, WY
-12
22 DNF
19
7R
James Rowley Spanish Fork, UT
Spanish Fork, UT
-3
23 DNF
21
3B
Brian Brennan Rozet, WY
Rozet, WY
-2
DNS
24
23
Ernie Acuna Gillette, WY
Gillette, WY
-
Finish
Start
#
Competitor
Hometown
+/-
1
1
29
Alan Farley Rapid City, SD
Rapid City, SD
-
2
3
7
Marlyn Seidler Underwood, ND
Underwood, ND
1
3
6
15C
Jeff Cooper Riverton, WY
Riverton, WY
3
4
8
43
Rick Chorniak Casper, WY
Casper, WY
4
5
7
25
Hank Berry Sidney, MT
Sidney, MT
2
6
2
65
Nick Hankins Bennett, CO
Bennett, CO
-4
7
5
7R
James Rowley Spanish Fork, UT
Spanish Fork, UT
-2
8 DNF
4
3B
Brian Brennan Rozet, WY
Rozet, WY
-4
All transfer
Finish
Start
#
Competitor
Hometown
+/-
1
1
E5K
Eddie Kirchoff Gillette, WY
Gillette, WY
-
2
5
5
Connor Friske Rapid City, SD
Rapid City, SD
3
3
7
44
Eric Mass Rapid City, SD
Rapid City, SD
4
4
2
25R
Bryan Renken Gillette, WY
Gillette, WY
-2
5
4
08M
T. J. Martell Gillette, WY
Gillette, WY
-1
6
3
46
Adam Boggs Custer, SD
Custer, SD
-3
7
8
550K
Kyle Anton Gillette, WY
Gillette, WY
1
8
6
46X
Darren Fischer Rapid City, SD
Rapid City, SD
-2
All transfer
Finish
Start
#
Competitor
Hometown
+/-
1
5
8C
Chad Andersen Ft. Calhoun, NE
Ft. Calhoun, NE
4
2
7
50
Wade Manning Gillette, WY
Gillette, WY
5
3
1
2J
Jerry Martin Moorcroft, WY
Moorcroft, WY
-2
4
6
27EH
Lawrence O'Connor Port Hardy, BC
Port Hardy, BC
2
5
3
00
Ryan Renken Gillette, WY
Gillette, WY
-2
6
2
13
Brent Nielsen Rapid City, SD
Rapid City, SD
-4
7
8
23
Ernie Acuna Gillette, WY
Gillette, WY
1
8
4
15
Jeffery Cooper II Riverton, WY
Riverton, WY
-4
All transfer
Dirt Super Late Models
Finish
Start
#
Competitor
Hometown
+/-
1
1
E5K
Eddie Kirchoff Gillette, WY
Gillette, WY
-
2
6
25
Hank Berry Sidney, MT
Sidney, MT
4
3
3
3X
Lyndon Bolt Rapid City, SD
Rapid City, SD
-
4
11
47
Lynn Amick Rapid City, SD
Rapid City, SD
7
5
4
17
Jim Harris Estevan, SK
Estevan, SK
-1
6
5
00
Beau Nave Billings, MT
Billings, MT
-1
7
10
5R
Scott Rhoades Wheat Ridge, CO
Wheat Ridge, CO
3
8
16
44
Brandon Lewis Brighton, CO
Brighton, CO
8
9
13
5X
Scott Cimfl Westminster, CO
Westminster, CO
4
10
20
65
Greg Sharpe Commerce City, CO
Commerce City, CO
10
11
17
39
Albert Sack Brighton, CO
Brighton, CO
6
12
15
66
Alysse Bolt Rapid City, SD
Rapid City, SD
3
13
18
21M
Aaron Monie Highlands Ranch, CO
Highlands Ranch, CO
5
14 DNF
12
X10
Dakota Dillin Denver, CO
Denver, CO
-2
15 DNF
24
M1
Kyle Halter Belgrade, MT
Belgrade, MT
9
16 DNF
25
97
Dan Henrikson Rapid City, SD
Rapid City, SD
9
17 DNF
19
71
Morris Oberle Lead, SD
Lead, SD
2
18 DNF
14
30
Bob Moody Williston, ND
Williston, ND
-4
19 DNF
8
8R
Virgil Randall Interior, SD
Interior, SD
-11
20 DNF
7
63
Maria Hankins Bennett, CO
Bennett, CO
-13
21 DNF
9
5
Jeff Meeker Hudson, CO
Hudson, CO
-12
22 DNF
22
28
Marty Beyl Ranchester, WY
Ranchester, WY
-
23 DNF
21
14
Ken Helman Laurel, MT
Laurel, MT
-2
24 DNF
2
R30
Rob Odegard Williston, ND
Williston, ND
-22
25 DNF
23
2
Marty Erivez Jr Gillette, WY
Gillette, WY
-2
Finish
Start
#
Competitor
Hometown
+/-
1
1
17
Jim Harris Estevan, SK
Estevan, SK
-
2
7
E5K
Eddie Kirchoff Gillette, WY
Gillette, WY
5
3
2
63
Maria Hankins Bennett, CO
Bennett, CO
-1
4
6
5R
Scott Rhoades Wheat Ridge, CO
Wheat Ridge, CO
2
5
5
30
Bob Moody Williston, ND
Williston, ND
-
6
8
44
Brandon Lewis Brighton, CO
Brighton, CO
2
7
4
65
Greg Sharpe Commerce City, CO
Commerce City, CO
-3
8
3
28
Marty Beyl Ranchester, WY
Ranchester, WY
-5
DNS
9
97
Dan Henrikson Rapid City, SD
Rapid City, SD
-
All transfer
Finish
Start
#
Competitor
Hometown
+/-
1
1
00
Beau Nave Billings, MT
Billings, MT
-
2
3
25
Hank Berry Sidney, MT
Sidney, MT
1
3
2
8R
Virgil Randall Interior, SD
Interior, SD
-1
4
4
47
Lynn Amick Rapid City, SD
Rapid City, SD
-
5
5
66
Alysse Bolt Rapid City, SD
Rapid City, SD
-
6
8
39
Albert Sack Brighton, CO
Brighton, CO
2
7
7
14
Ken Helman Laurel, MT
Laurel, MT
-
8
6
2
Marty Erivez Jr Gillette, WY
Gillette, WY
-2
All transfer
Finish
Start
#
Competitor
Hometown
+/-
1
2
R30
Rob Odegard Williston, ND
Williston, ND
1
2
5
3X
Lyndon Bolt Rapid City, SD
Rapid City, SD
3
3
1
5
Jeff Meeker Hudson, CO
Hudson, CO
-2
4
3
X10
Dakota Dillin Denver, CO
Denver, CO
-1
5
6
5X
Scott Cimfl Westminster, CO
Westminster, CO
1
6
7
21M
Aaron Monie Highlands Ranch, CO
Highlands Ranch, CO
1
7
8
71
Morris Oberle Lead, SD
Lead, SD
1
8
4
M1
Kyle Halter Belgrade, MT
Belgrade, MT
-4
All transfer