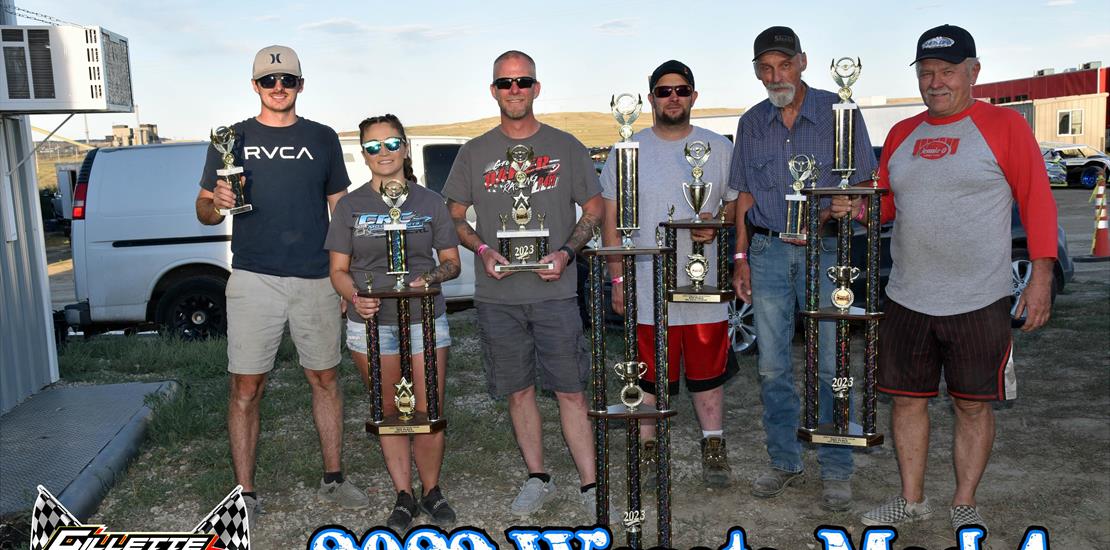 9/14/2023 -
Congrats to your 2023 Gillette Thunder Speedway Overall Points winners in the Wissota Mod 4 Class! Champion: Tyler Sikkenga #745 - Gillette, WY 2nd: D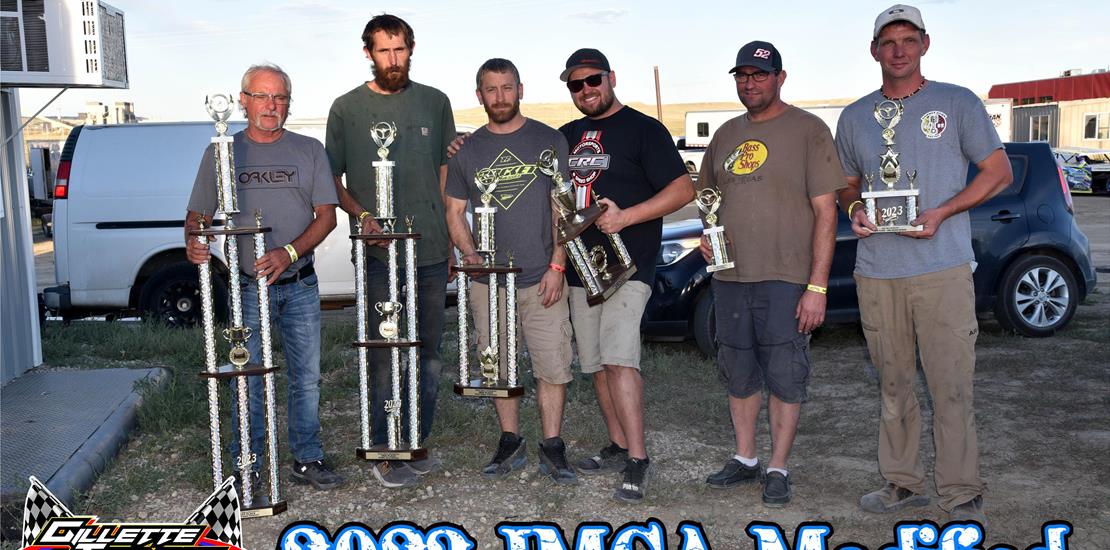 9/14/2023 -
Congrats to your 2023 Gillette Thunder Speedway Overall Points winners in the IMCA Modified Class! Champion: Mike Dimond #XM - Rapid City, SD 2nd: Kyl
9/14/2023 -
Congrats to your 2023 Gillette Thunder Speedway Overall Points winners in the IMCA Hobby Stock Class! Champion: John Garrigan Jr. #95J - Rapid City, S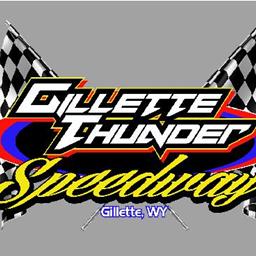 8/19/2023 - Gillette Thunder Speedway
Gillette, WY
2023 Season Points Championship, Wissota Mod 4 Special and Sprint Cars
Next Saturday night @ Gillette Thunder Speedway, 2023 Points Championship Night and the 17th Annual Wissota Mod 4 Black Jack Special with Sprint Cars!
7 Classes racing!: Wissota Mod 4, 360 Winged Sprint Cars, Wissota B-Mod, IMCA Hobby Stock, and IMCA Modified, Open Late Model, & GTS Mini Bomber
Gates Open at 6pm races start 7pm!!
2023 Gillette Thunder Speedway
General Admission: $15
Seniors / Veterans: $12
Kids 12 years and younger over 4' tall : $6
Kids 4' and under: Free!
Mini Bombers

5 entries

360 Sprints - Winged

8 entries

WISSOTA Midwest Mods

18 entries

WISSOTA Mod Four

10 entries

IMCA Hobby Stock

8 entries

IMCA Modified

10 entries

Dirt Super Late Models

2 entries
Full Event Information on MyRacePass
Mini Bombers
Finish
Start
#
Competitor
Hometown
+/-
1
1
21T
Paxton Tyrell Gillette, WY
Gillette, WY
-
2
5
02K
Jared Lynch Gillette, WY
Gillette, WY
3
3
2
14
Austin Rusk Gillette, WY
Gillette, WY
-1
4
4
09RJ
Russell Brown Gillette, WY
Gillette, WY
-
5
3
1
Trevor Powell Gillette, WY
Gillette, WY
-2
All transfer
360 Sprints - Winged
Finish
Start
#
Competitor
Hometown
+/-
1
2
72
Phil Dietz Laurel, MT
Laurel, MT
1
2
4
20
Logan Hershey Gillette, WY
Gillette, WY
2
3
1
4
Adam Speckman Rapid City, SD
Rapid City, SD
-2
4
6
9
Damon McCune Shepherd, MT
Shepherd, MT
2
5
5
79
Darrick Duvall Gillette, WY
Gillette, WY
-
6
7
20C
Christian Kinnison Denton, TX
Denton, TX
1
7
8
41
Chris McAuley Casper, WY
Casper, WY
1
8
3
0J
Jeremy McCune Billings, MT
Billings, MT
-5
WISSOTA Midwest Mods
Finish
Start
#
Competitor
Hometown
+/-
1
2
17
Troy Leiker Gillette, WY
Gillette, WY
1
2
3
18
Tony Leiker Gillette, WY
Gillette, WY
1
3
5
33
Austin Long Gillette, WY
Gillette, WY
2
4
1
391
Matthew Drake Gillette, WY
Gillette, WY
-3
5
11
72
Nick Leiker Rozet, WY
Rozet, WY
6
6
6
7
Danny Allen Gillette, WY
Gillette, WY
-
7
13
29
Ty Miller Gillette, WY
Gillette, WY
6
8
10
25K
Kolby Weight Gillette, WY
Gillette, WY
2
9
12
34H
Rob Hoffman Gillette, WY
Gillette, WY
3
10
7
25C
Casey Renken Gillette, WY
Gillette, WY
-3
11
14
30
Jeremy Cole Gillette, WY
Gillette, WY
3
12
17
12
Alexis Manning Gillette, WY
Gillette, WY
5
13
8
55B
Austin Baumberger Gillette, WY
Gillette, WY
-5
14
16
509
Brennan Davis Piedmont, SD
Piedmont, SD
2
15
9
50
Paul Parks Owanka, SD
Owanka, SD
-6
16
15
28
Dawson Stoner Gillette, WY
Gillette, WY
-1
17 DNF
4
T3
Travis Soper Gillette, WY
Gillette, WY
-13
DNS
18
58
Braddy Taylor Gillette, WY
Gillette, WY
-
Finish
Start
#
Competitor
Hometown
+/-
1
3
391
Matthew Drake Gillette, WY
Gillette, WY
2
2
1
T3
Travis Soper Gillette, WY
Gillette, WY
-1
3
6
25C
Casey Renken Gillette, WY
Gillette, WY
3
4
2
25K
Kolby Weight Gillette, WY
Gillette, WY
-2
5
4
29
Ty Miller Gillette, WY
Gillette, WY
-1
6
5
509
Brennan Davis Piedmont, SD
Piedmont, SD
-1
All transfer
Finish
Start
#
Competitor
Hometown
+/-
1
2
17
Troy Leiker Gillette, WY
Gillette, WY
1
2
5
33
Austin Long Gillette, WY
Gillette, WY
3
3
3
55B
Austin Baumberger Gillette, WY
Gillette, WY
-
4
4
72
Nick Leiker Rozet, WY
Rozet, WY
-
5
1
30
Jeremy Cole Gillette, WY
Gillette, WY
-4
6
6
12
Alexis Manning Gillette, WY
Gillette, WY
-
All transfer
Finish
Start
#
Competitor
Hometown
+/-
1
3
18
Tony Leiker Gillette, WY
Gillette, WY
2
2
4
7
Danny Allen Gillette, WY
Gillette, WY
2
3
1
50
Paul Parks Owanka, SD
Owanka, SD
-2
4
5
34H
Rob Hoffman Gillette, WY
Gillette, WY
1
5
2
28
Dawson Stoner Gillette, WY
Gillette, WY
-3
6
6
58
Braddy Taylor Gillette, WY
Gillette, WY
-
All transfer
WISSOTA Mod Four
Finish
Start
#
Competitor
Hometown
+/-
1
5
37
Dean Larson Pennock, MN
Pennock, MN
4
2
1
745
Tyler Sikkenga Gillette, WY
Gillette, WY
-1
3
3
P413
Greg Baker Gillette, WY
Gillette, WY
-
4
4
123
Jason Sikkenga Gillette, WY
Gillette, WY
-
5
7
86
David Jozwiak Gillette, WY
Gillette, WY
2
6
2
8W
John Smith Gillette, WY
Gillette, WY
-4
7
6
55
Shelli Lind Gillette, WY
Gillette, WY
-1
8
9
69
Mike Lind Gillette, WY
Gillette, WY
1
9
10
25
Ryanne Keesling Sheridan, WY
Sheridan, WY
1
DNS
8
46K
Katie Rush Gillette, WY
Gillette, WY
-
Finish
Start
#
Competitor
Hometown
+/-
1
2
P413
Greg Baker Gillette, WY
Gillette, WY
1
2
5
8W
John Smith Gillette, WY
Gillette, WY
3
3
1
55
Shelli Lind Gillette, WY
Gillette, WY
-2
4
3
86
David Jozwiak Gillette, WY
Gillette, WY
-1
5
4
69
Mike Lind Gillette, WY
Gillette, WY
-1
All transfer
Finish
Start
#
Competitor
Hometown
+/-
1
2
37
Dean Larson Pennock, MN
Pennock, MN
1
2
1
745
Tyler Sikkenga Gillette, WY
Gillette, WY
-1
3
4
123
Jason Sikkenga Gillette, WY
Gillette, WY
1
4
5
46K
Katie Rush Gillette, WY
Gillette, WY
1
5
3
25
Ryanne Keesling Sheridan, WY
Sheridan, WY
-2
All transfer
IMCA Hobby Stock
Finish
Start
#
Competitor
Hometown
+/-
1
5
95J
John Garrigan Jr Rapid City, SD
Rapid City, SD
4
2
3
383
Larry Wagner Casper, WY
Casper, WY
1
3
1
40
Mike Matlock Wright, WY
Wright, WY
-2
4
2
00
Benjie Bayne Casper, WY
Casper, WY
-2
5
4
09DR
Russell Brown Gillette, WY
Gillette, WY
-1
6
8
25S
Shelbey Renken Gillette, WY
Gillette, WY
2
7
6
5K
John Lynch Jr Gillette, WY
Gillette, WY
-1
DNS
7
1/2
Kayla Hanna Gillette, WY
Gillette, WY
-
Finish
Start
#
Competitor
Hometown
+/-
1
3
40
Mike Matlock Wright, WY
Wright, WY
2
2
5
00
Benjie Bayne Casper, WY
Casper, WY
3
3
6
383
Larry Wagner Casper, WY
Casper, WY
3
4
2
09DR
Russell Brown Gillette, WY
Gillette, WY
-2
5
7
95J
John Garrigan Jr Rapid City, SD
Rapid City, SD
2
6
4
5K
John Lynch Jr Gillette, WY
Gillette, WY
-2
7
8
25S
Shelbey Renken Gillette, WY
Gillette, WY
1
8 DNF
1
1/2
Kayla Hanna Gillette, WY
Gillette, WY
-7
All transfer
IMCA Modified
Finish
Start
#
Competitor
Hometown
+/-
1
1
E5K
Eddie Kirchoff Gillette, WY
Gillette, WY
-
2
2
XM
Mike Dimond Rapid City, SD
Rapid City, SD
-
3
8
99L
Lance Lewis Mitchell, NE
Mitchell, NE
5
4
6
52
Darran Conrad Gillette, WY
Gillette, WY
2
5
3
37
Casey Jacobson Pine Haven, WY
Pine Haven, WY
-2
6
10
57
Torey Rush Gillette, WY
Gillette, WY
4
7
7
550K
Kyle Anton Gillette, WY
Gillette, WY
-
8
5
46
Adam Boggs Custer, SD
Custer, SD
-3
9 DNF
4
25R
Bryan Renken Gillette, WY
Gillette, WY
-5
DNS
9
50
Wade Manning Gillette, WY
Gillette, WY
-
Finish
Start
#
Competitor
Hometown
+/-
1
5
E5K
Eddie Kirchoff Gillette, WY
Gillette, WY
4
2
2
37
Casey Jacobson Pine Haven, WY
Pine Haven, WY
-
3
1
46
Adam Boggs Custer, SD
Custer, SD
-2
4
4
550K
Kyle Anton Gillette, WY
Gillette, WY
-
5 DNF
3
50
Wade Manning Gillette, WY
Gillette, WY
-2
All transfer
Finish
Start
#
Competitor
Hometown
+/-
1
3
XM
Mike Dimond Rapid City, SD
Rapid City, SD
2
2
4
25R
Bryan Renken Gillette, WY
Gillette, WY
2
3
1
52
Darran Conrad Gillette, WY
Gillette, WY
-2
4
5
99L
Lance Lewis Mitchell, NE
Mitchell, NE
1
5
2
57
Torey Rush Gillette, WY
Gillette, WY
-3
All transfer
Dirt Super Late Models
Finish
Start
#
Competitor
Hometown
+/-
1
1
E5K
Eddie Kirchoff Gillette, WY
Gillette, WY
-
2 DNF
2
M91
Heather Mertens Gillette, WY
Gillette, WY
-
Finish
Start
#
Competitor
Hometown
+/-
1
2
E5K
Eddie Kirchoff Gillette, WY
Gillette, WY
1
2
1
M91
Heather Mertens Gillette, WY
Gillette, WY
-1
All transfer